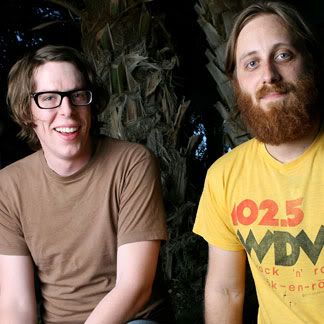 The Black Keys madness continues! These dudes have been everywhere lately! I'm not sure what type of exclusive content we can expect from this MTV segment but for the time being we have a nice behind the scenes look at the Akron, OH natives personal lives as well as some footage from the making of the video for the excellent tune "Tighten Up."
For more recent Black Keys downloads (post
Brothers
) check them out
Live on the Interface
and on
NPR's World Cafe
. Two good reference points for hearing the new songs live with the four piece setup.
The Black Keys - MTV Shows
The Black Keys - MTV Shows
Also, sign up for the Black Keys mailing list
here
. On top of getting updates from one of the best bands in the game you get the insanely nasty track "Ohio" that was previously only available on the limited 7". I'll go as far as to say that it's one of their most powerful tunes with some great guitar work by Dan Auerbach at the end. I've included the download below but sign up for the mailing list anyways! Enjoy guys.
The Black Keys Amazon